Access to spatial and temporal dimensions
EASy is the dynamic (time-based), 4-dimensional home for data, allow 2-dimensional (map-based) visualization with interactive drilling and slicing of dynamic 3 dimensional fields. EASy handles both historical and real-time data streams. It graphically renders dynamically in time, within their proper geo-spatial context, both field and remotely sensed data and model outputs as diverse types of plots, including vector, contour, and false color image plots. Vertical structure of data, critical in oceanographic applications, is depicted as vertical contours for user-defined transects or depth profiles at selected point locations. Time series of measurements, and dependencies between data at individual stations can also be visualized interactively as XY-plots.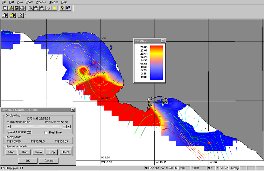 EASy can display data in many ways: XY-graphs, bubble charts, contours, false color, and many others
Here EASy plots the DDT concentration within fauna as a false color plot (top), and mariculture data model with time-series XY-plots (below).